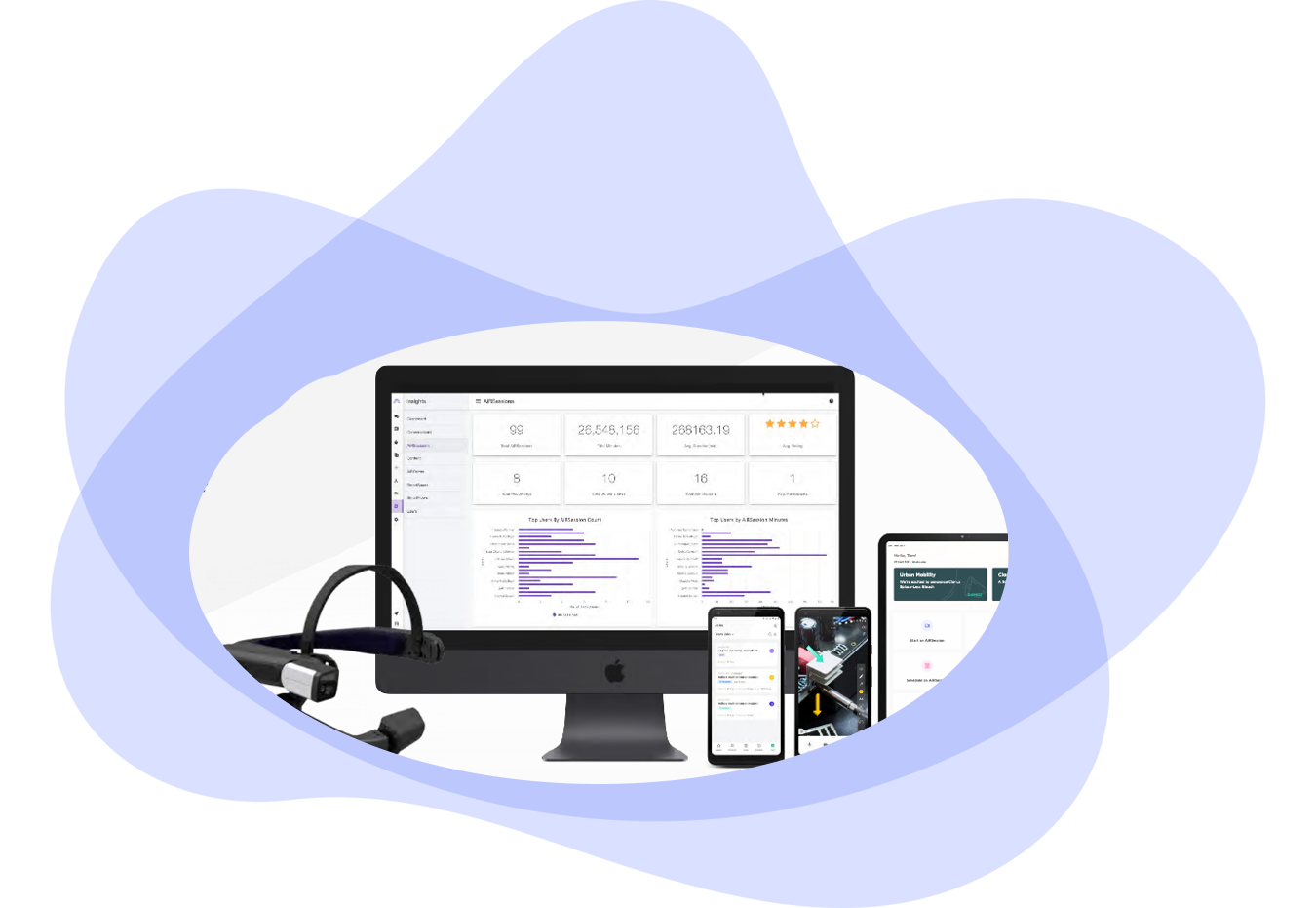 There's no doubt we're in a time of significant new challenges and changes. The challenges include finding dynamic ways to handle fast changing demand, developing new strategies for social and work distancing, better supporting remote work and collaboration, as well as optimizing work processes to ensure business continuity.
To meet these challenges, every enterprise is considering how to reinvent the ways they work. Evidence of this demand is widespread. For example, a September 2020 survey of 3,450 executives in 20 countries across 22 industries by IBM's Institute for Business Value found that no less than 60 percent of respondents said COVID-19 has "adjusted our approach to change management" and "accelerated process automation."
Atheer has also heard that demand from enterprises – and in May of 2020 at Augmented World Expo 2020, we introduced our new Front Line Productivity Platform. We also promised at that time that further development and enhancements to our platform would be on-going, Since then, we have worked to bring the full realization of our vision for front line productivity to life – with the initial release of the front line platform in July of 2020.
The latest update to our platform is the now-available Atheer Aurora release. It adds a broad range of exciting new capabilities aimed at empowering enterprises – and particularly their front line teams.
These exciting new capabilities are delivered in the four strategic areas that can make a big difference to front line teams in the enterprise:
     

Self-Assist – In tackling any task, front line team members will typically start by looking for ways to assist themselves. The self-assistance delivered in Atheer provides access to contextual knowledge, training and guidance. Context in Atheer includes knowledge of who needs help, what they are trying to do and what the next logical set of choices are to help them. In the Aurora release, relevant content is now easier to find – and it is easier to make more content contextual and audience-specific. For large enterprises, the ability to segment content, work instructions and smart scans ensures that it is only made available to the person or people for whom it is relevant and intended.

     

Remote-Assist –Sometimes front line team members need more help than they can get from self-assistance. The Aurora release brings forward Atheer's ability to deliver remote multi-party, secure video sessions on smartphones, tablets and wearable devices – including support for the popular RealWear HMT-1, continuing support for Android mobile devices and both Apple iPads and iPhones running iOS 14. The release provides three easy ways to invite non-employees – such as suppliers, outside experts and customers – to join these video sessions, using SMS messaging, email or an Atheer-assigned device ID to issue the invitation.

     

Workflow-Assist – Having obtained whatever self assistance and remote assistance front line teams need, Atheer supports them in working through their jobs. Atheer provides everything enterprises need to design workflows, create rich sets of work instructions with support for textual, video and audio inputs, as needed, at every step. With the Aurora release, it is now possible to design richer and more complex work instructions, get those work instructions in use more quickly and better manage how front line teams use them.

     

Platform – The Atheer platform provides the foundation for all the capabilities that Atheer delivers. It also includes the gathering of vital usage data for all the work carried out using the platform and delivers the insights with powerful built-in dashboards. The Aurora release introduces a powerful new platform-level capability that allows enterprises to use Atheer to connect the data housed in enterprise systems (including ERP, CRM and PLM) to the Atheer platform. This new capability takes a flexible, standards-based approach to enterprise data integration that allows business processes to be simpler, faster and more accurate. The Atheer Aurora release also provides the ability to export and analyze that data in enterprise-standard reporting tools (such as PowerBI, Tableau and Excel). Also new in the Aurora release is an expansion of the global cloud infrastructure supporting the Atheer platform – ensuring lower latency and optimization of user expereience in data-intensive sessions.
These are just a few of the many new capabilities provided in the Atheer Aurora release.
For full details on how the Aurora release can make a difference in your business, contact your customer success manager.